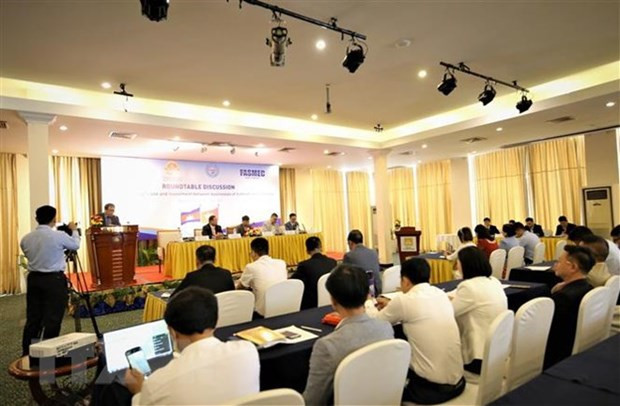 An overview of the event (Photo: VNA)
Local management officials and representatives of the business communities of Vietnam and Cambodia joined a Vietnam-Cambodia trade and investment promotion conference in Phnom Penh on December 17.
Opening the event, Phan Van Truong,  who is in charge of the Vietnam Trade Office in Cambodia, said that after more than two years of the COVID-19 pandemic, the Vietnamese and Cambodian economies have recovered and developed strongly.
Bilateral trade and investment partnership has been growing fast, while businesses of both nations have strengthened their collaboration, he said.
Truong said that the conference aimed to connect businesses of the two countries and give them a chance to seek partnership and develop markets, thus expanding their investment and business activities.
Meanwhile, Tan Yuvaroat, Vice Director of the General Directorate of Trade Promotion under the Cambodian Ministry of Commerce, said that Cambodia and Vietnam have shared a long history of trade relations, and the two governments have worked hard to promote official trade exchange on major products of fertilizers, plant varieties and construction materials, and foodstuff.
He held that Vietnam has an attractive tourism market that is suitable to Cambodian visitors' demand. Cambodia had attracted a number of investment projects in agriculture and industry, but they were halted due to COVID-19 impacts, he added.
The official said he hoped the conference would provide more information for businesses to seek partnership opportunities
According to Ngo Van Tuat, Minister Counsellor of the Vietnamese Embassy in Cambodia, in the first 11 months of this year, trade between Vietnam and Cambodia reached 9.77 billion USD, up 13.2% year on year. The figure is expected to reach over 10 billion USD in 2022, he added.
Tuat held that agriculture is one of the priority area of Cambodia and Vietnam's strength, suggesting that the two sides support each other in promoting the processing industry for agricultural products, thus forming a supply chain for the regional and global market.
He believed that with the new investment law of Cambodia and the signed agreements, investors and businesses of the two countries will foster their partnership in the fields of agriculture, agricultural product processing, construction, tourism, services and trade, especially border trade.
Vietnam – Singapore innovation centre helps firms transform production
The Vietnam – Singapore Industry 4.0 Innovation Centre recently made debut in the southern province of Binh Duong, aiming to not only support startups but also assist manufacturers to carry out reforms and raise labour productivity.
The centre comes as a result of the cooperation between the Vietnamese side, comprising of the Becamex IDC Corp. under the Binh Duong provincial People's Committee, the Vietnam – Singapore Industrial Park (VSIP) joint venture and the Eastern International University, and Singaporean partners, including Singapore Polytechnic and the Smart i4.0 Transformation Alliance.
It is equipped with laboratories, machinery, and facilities to help creators and enterprises conduct research and reform without having to make  their own financial investment.
With support from experienced Singaporean partners, it also looks to assist enterprises to improve and transform their existing machinery and production lines to promote governance effectiveness, labour productivity, and added value.
At the recent National Innovative Entrepreneurship Day 2022 (Techfest Vietnam 2022), the Ministry of Science and Technology and Becamex IDC, which represented Vietnamese and Singaporean partners, also signed a cooperation agreement to design programmes for supporting startups.
Tech firms forecast to continue benefiting from digital economy growth
Technology and telecoms businesses are expected to continue benefiting from the growth of the digital economy in Vietnam, which is showing a strong performance in the commercialisation of the 5G network.
Chu Duc Toan, an analyst from the VNDIRECT Securities Corporation, predicted that revenue from digital transformation in 2023 will increase 18% from this year to double the earnings made from traditional IT services.
Like the rest of the world, the Vietnamese economy is undergoing a digital transformation. The national digital transformation programme for 2025, with a vision to 2030, targets that the digital economy will contribute 20% of GDP by 2025.
The Government is promoting the development of the digital economy with a series of policies and mechanisms with the latest being the Prime Minister's Directive 16/CT-TTg
Meanwhile, the e-Conomy SEA 2021 report by Google, Temasek and Bain & Company predicted the value of Vietnam's digital economy at 52 billion USD by 2025 with a growth rate of 24%, ranking third in Southeast Asia.
The 5G revolution is heralding a new era for a number of technologies, and Vietnam is one of the countries with the fastest internet development in the world. According to Internet World Stats, the number of internet subscriptions in the country surged by 343-fold between 2000 and 2021.
Vietnam was one of the first countries to successfully operate 5G-based phone calls. Network device producer Cisco forecast 5G subscriptions in Vietnam will reach 6.3 million by 2025.
The early deployment of 5G services could help Vietnam's telecom service providers raise revenue by 300 million USD each year, starting from 2025. The country could soon become one of the first in Southeast Asia to launch a 5G network with companies such as Viettel, Vinaphone and Mobifone racing to develop the first nationwide 5G network.
Thanks to the application of 5G technology, there will be numerous opportunities for developing modern apps to diversify products and services.
Besides, with the technology sector's attractiveness, mergers and acquisitions (M&As) are also being promoted, especially by firms possessing or investing in advanced technology with big customer databases. Noteworthy deals in the recent past include FPT's purchase of Base.vn, and an investment worth 300 million USD in VNPay by Softbank Vision Fund and GIC Fund.
Despite uncertainties in the global economy, M&As in technology are still taking place, driven by particularly strong flows of private capital. In addition, in spite of tightened conditions in the capital market, many enterprises still have large sums of cash ready to be disbursed, according to insiders.
Industrial property an outlier within a weakening market
In the midst of a difficult time in real estate in many segments, from land plots to individual houses and apartments, industrial real estate remains attractive to both investors and tenants.
According to data from the Housing and Real Estate Market Management Agency under the Ministry of Construction, in the third quarter of 2022, the occupancy rate of industrial parks (IPs) remained high, especially for ready-built and rental demand.
The occupancy rate of IPs was about 83 per cent in the northern provinces and 84 per cent in the south. Along with that, land rental prices in IPs in Q3 increased slightly by about 5 per cent compared to the previous quarter.
International investors have quickly seized the opportunity to meet this high demand.
Savills' Industrial Insider report shows that, in 2022, a number of ready-built factories have started construction to add supply to the market, including SLP Long Hau in Long An province, Ho Nai IP in Dong Nai province, Core5 Haiphong in Haiphong city, and VLI in Hung Yen province.
The industrial real estate market is also supplemented with new supply from a number of projects that have been launched, such as the Soc Son, Dong Anh, Bac Thuong Tin, Phung Hiep, and expanded Phu Nghia IPs in Hanoi; as well as Son My I IP in Binh Thuan province.
Currently, the entire southern key economic region of eight provinces and cities boasts around 140 parks in operation with a total leased area of more than 33,000 hectares, accounting for one-third of the country's leasable area and twice the leasable area in the north.
The demand for industrial land rental in recent years has increased sharply, and especially so this year. The southern market witnessed big deals such as Lego and Pandora leasing in VSIP 3 in Binh Duong province, and Coca-Cola in the Phu An Thanh IP in Long An province.
Ho Chi Minh City is leading the market with an average rental price of $6 per sq.m per month. The rental market has witnessed a trend of longer-term rentals for factory leasing contracts lasting for 2-3 years instead of the typical 6-12 months. In some localities such as Ba Ria-Vung Tau, Tay Ninh, and Tien Giang, the lease term is up to 5-6 years, much higher than the rest of the market.
GNP Capital proposes investment in 650-hectare IZ in Thanh Hoa
Gaw NP Capital (GNP Capital) hopes to sponsor the building of the 1/2000-scale construction zoning plan for the 650-hectare industrial zone (IZ) in the central province of Thanh Hoa.
GNP Capital proposes investment in 650-hectare IZ in Thanh Hoa
However, based on the proposal by Nghi Son Economic Zone Management Authority in Official Letter No.3869/BQLKKTNS&KCN-QLQH dated December 5, Thanh Hoa People's Committee moved to deny this proposal.
According to the explanation from the province, GNP Capital's proposed IZ is in the provincial planning for the 2021-2030 period, with a vision to 2045, and the general planning of Thanh Hoa's urban area up to 2040. These plans are being appraised and have yet to be approved by the prime minister.
Banks agree to slash lending rates
Sixteen banks are offering an annual interest rate discount of 0.5-3 percentage points for clients from December 2022 to the end of January in 2023, the Vietnam Bankers' Association said. The total interest rate reduction amounts to VND3.5 trillion.
Though strains on the Vietnam dong-U.S. dollar exchange rate have been relieved, along with a stabilized financial market, deposit rates remain high for tenors of 12 months or longer, at 9-10% per year, said an association official.
Some banks have even raised interest rates further, at 11.5-12% a year, fueling competition and creating anxiety among depositors and borrowers, he added.
Aware of the current situation, the association on December 7 called on its members to set an annual deposit rate cap of 9.5% for all tenors to stabilize interest rates and guarantee banking sector liquidity, thereby enabling businesses to take out loans at lower rates.
To date, 16 banks have promised to lower interest rates, amounting to VND3.5 trillion, by dropping their annual lending rates by 0.5-3 percentage points, said Nguyen Quoc Hung, general secretary of the association.
BIDV has cut 0.5-2.5 points of interest rates for businesses operating in prioritized industries, import-export sectors, foreign firms and those affected by Covid-19.
Agribank has reduced its rates for outstanding loans in the Vietnamese dong taken out before November 30 by 20%. For loans given out in December, the bank offers an interest subsidy of up to 20% for borrowers based on their businesses.
Vietcombank has decreased interest rates for loans in the Vietnamese dong for its clients from January to the end of December by one percentage point. So far, around 175,000 clients have benefited from the interest subsidy, with a credit scale of over VND500 trillion, accounting for nearly 50% of the outstanding balance.
ACB has slashed lending rates by one percentage point for clients taking out loans from December 6 to the end of January 2023, while SHB is offering an interest subsidy of 1.5-2 percentage points for borrowers operating in prioritized sectors and businesses producing necessities.
HCMC seeks to develop waterway tourism along with passenger transport
HCMC has the potential to develop passenger transport in combination with waterway tourism, so it is seeking to build appropriate products to exploit this advantage.
The city now has 101 waterway routes with a total length of 913 kilometers, which is convenient for developing waterway tourism.
These waterway routes offer cruise ship tourists easy access to the city center from Nha Rong – Khanh Hoi port or Bach Dang wharf. From the city center, tourists can also take a river tour to outlining districts such as Cu Chi and Can Gio.
Despite its potential, the waterway tourist products of HCMC are inadequate. The city attracted 27.9 million domestic guests in November, but only 342,800 guests joined the city's river tours.
According to Bui Hoa An, deputy director of the Transport Department, HCMC has regional planning for passenger inland waterway ports, while the planning for the position, river route, scale, ship size and capacity of passenger inland waterway ports has yet to be determined.
In the future, the function of the Nha Rong – Khanh Hoi port will be converted to make the port a tourist destination with a modern wharf and terminal.
The Tourism Department is developing a plan for development of waterway tourism products for the 2022-2025 period, in which by 2025, the waterway tourist products will be exploited on the Saigon river routes, including Nha Be, Soai Rap and Long Tau, linking neighboring provinces such as Dong Nai, Binh Duong, Tien Giang, Long An, Ben Tre and the inner city canals with at least 10 waterway tourism programs.
Bamboo Capital chairman acquires five million BCG shares
Nguyen Ho Nam, chairman of Bamboo Capital Group JSC, whose shares are traded on the Hochiminh Stock Exchange under the code BCG, has purchased five million BCG shares.
The share purchase was conducted from December 2 to 14, raising his ownership in BCG to 15.63%, or some 83.4 million shares, the local media reported.
Between January and September, BCG made over VND3.3 trillion in revenue, soaring by 74% year-on-year, and VND885 billion in after-tax profit, up 26% against the year-ago period.
Pre-tax profit of 18 SOEs above expectations
Over VND39.2 trillion in pre-tax profit was earned by 18 of the 19 enterprises under the Commission for the Management of State Capital at Enterprises, representing 117% of the figure last year and exceeding 73% of the year's plan.
The total revenue of 19 enterprises and corporations is estimated at VND1.12 quadrillion, equal to 114% of the plan and 133% compared to the figure in 2021.
Some 15 of 19 enterprises saw their total revenue reach or exceed the plan, while 16 completed their responsibility for the State budget.
Some state-owned enterprises with remarkable achievements this year comprise PetroVietnam (PVN), Petrolimex, Vietnam National Chemical Group, Vietnam National Coal and Mineral Industries Group and Vietnam Expressway Corporation.
Meanwhile, Vietnam Electricity suffered a sudden loss of VND31 trillion due to volatile global fuel prices and rising costs of generating and buying electricity.
According to the Commission for the Management of State Capital at Enterprises, Vietnam's economy has been affected by global economic fluctuations and internal risks from financial markets, currency, real estate and corporate bonds.
In 2022, state-owned enterprises and corporations strived to overcome these challenges and recover their production and business activities, contributing to socio-economic development and increasing the state budget's revenue.
Double compensation likely for aging apartments in Hanoi
The Hanoi City People's Committee has introduced the draft regulations on renovation of aging apartments to the public for feedback, with compensation possibly double.
According to information from the portal of the Hanoi City's People's Committee, for the aging apartment buildings renovated and constructed by the Government, the compensation coefficient would be one. If the relocation apartment's area is larger than that of the original one, the apartment owner will make up the difference which will be calculated in square meters at the same construction cost.
The Government will use the State budget to renovate only those aging apartment buildings that are State-owned and on the list of buildings in need of dismantling due to fire explosion risk, natural disaster or expiry.
Under the draft regulations, for the projects renovated by capital from the private sector, the compensation coefficient will not exceed twice the usable area of the original apartments. For example, if the area of the original apartment unit is 25 square meters, the maximum area compensation for the owner will be 50 square meters.
If the apartment owner refuses to buy the extra area, apart from the compensated area, the owner will not be subject to relocation and will receive a cash payment as compensation instead.
Since 2005, Hanoi has begun the renovation of aging apartment buildings. However, the city has completed renovating only 19 projects until now, while14 others are under construction. The city attributes the slow progress to policy changes.
From 2021-2025, the city planned to renovate 10 aging apartment buildings, including four with class D apartments and six with apartments feasible for renovation.
Full-year budget revenue 24% higher than targeted
Budget revenue is estimated to exceed the full-year target by 24.3%, topping VND1,460 trillion, the General Department of Taxation reported during an online conference held yesterday, December 15.
Compared to the revenue recorded in 2021, the figure this year improved by 8.5%.
Of the amount, domestic collection surpassed the target by 21%, equivalent to an additional VND240.5 trillion, accounting for over VND1,390 trillion. The tax from fee collection neared VND150 trillion, up 5.3% over 2021.
This year saw an overall increase in budget revenue of almost all the localities and types of taxes, with collections from state-owned companies up 15.7%, foreign-invested companies up 8.1% and non-state industrial and commercial sectors up 16.3%.
Personal income tax revenue soared 24.6%, registration fees rose 21.3% and tax collection from land use rights edged up 13.2%.
HCMC and Hanoi were the biggest collectors with over VND300 trillion. Meanwhile, the Ba Ria-Vung Tau, Hung Yen, Binh Duong, Dong Nai, Quang Ninh, Haiphong, Thanh Hoa and Vinh Phuc provinces contributed over VND30 trillion to the state budget.
Other provinces such as Quang Nam, Bac Ninh, Nghe An and Quang Ngai collected over VND20 trillion.
To date, 42 foreign service providers have registered with tax authorities to use digital tax services via the General Department of Taxation's portal for foreign enterprises, collecting over VND3,400 billion.
Multinational conglomerates such as Meta Platforms, Inc. (Facebook), Google, Microsoft, TikTok, and eBay were among the foreign taxpayers.
HCMC seeks public investment capital
HCMC is seeking to lure capital from multiple sources including the private sector and incoming remittance to compensate for a shortfall of state budget for public investment.
According to Phan Van Mai, chairman of the HCMC People's Committee, the city will be short of capital for public investment projects next year.
The central Government approved allocations of VND55,000 billion for HCMC's public investment, but the city can only manage VND45,000 billion at the maximum. The city is therefore considering three sources, including auctioning State properties, raising budget revenues and taking official development assistance loans to make up the balance, the local media reported.
Besides, the municipal administration will resort to capital from public assets, FDI funds and state-owned enterprises.
For ODA, the city will prudently weigh accessing this capital source to ensure its efficiency. The city also plans to use environmental funds to tackle infrastructure, traffic congestion and flooding issues.
In addition, in the first quarter of next year, HCMC will introduce a plan on mobilizing capital from the private sector.
For the capital from state-owned enterprises under the city's management, the city will seek to tap idle funds next year, as the capital of many enterprises is yet to be used for investment or production.
Further, a tentative plan for attracting remittances from overseas Vietnamese is being finalized. If accessible, this source of capital will be used for investment rather than consumption or purchasing fixed assets.
15,000 enterprises to participate in DDCI HCMC 2022 assessment
The People's Committee of Ho Chi Minh City, on December 16, held a meeting to announce the implementation of the Department and District Competitiveness Index (DDCI HCMC) 2022. The conference was attended by HCMC's leaders and other departments, localities, and districts.
At the meeting, the HCMC People's Committee announced and launched the DDCI HCMC 2022 program. Accordingly, the business community, associations, cooperatives, and business households will conduct surveys and assessments of the economic management capacity of departments, agencies, the People's Committee of Thu Duc City, and districts. 
The number of survey participants is expected to be about 15,000 enterprises, cooperatives, and individual business households, with an estimated response rate of 25-30 percent. Of these, 8,000 enterprises will assess the local sector, and 7,000 will evaluate the departments and agencies.
Mr. Dao Minh Chanh, Director of the Department of Planning and Investment of HCMC, said that DDCI HCMC 2022 comprised eight component indicators, including (1) Transparency and information access; (2) Activeness and efficiency of departments, agencies, and local authorities; (3) Time cost; (4) Unofficial cost; (5) Fair competition; (6) Corporate support activities; (7) Legal institutions; (8) Role of heads of departments, agencies, and local authorities. Land access and stability in land use would also be taken into consideration when making assessments of the localities.
Through the meeting, leaders of the People's Committee of HCMC called on the community of entrepreneurs, businesses, associations, cooperatives, and business households to engage in conducting surveys and assessments objectively and substantively to give a quality result.
For the subjects of the DDCI HCMC 2022, leaders of the HCMC People's Committee also hope that units and localities will promote a progressive spirit and cooperation and create all conditions for the DDCI HCMC 2022 to take place transparently and effectively.
Export turnover in garment, textile sector gains US$44 billion
The Vietnam Textile and Apparel Association yesterday said that the export turnover of the sector gained US$44 billion in 2022, increasing 8.8 percent over 2021.
This is considered to be an encouraging result and effort of enterprises in the field nationwide. Vietnam's garment and textile products have been exported to 66 countries and territories in the world with 55 key products.
However, the sector is facing huge challenges and difficulties comprising epidemic, global economic downturn, and reduction in purchasing power in both domestic and foreign markets.
Statistics showed that the number of orders has reduced by around 25 percent in big imported markets, comprising the United States, Japan, the Republic of Korea, China and so on.
Besides, the sector has been affected by the devaluation of currencies in some big imported countries.
Two big cities reach important milestone in tax collection
Two big cities, Ho Chi Minh City and Hanoi, have reached an important milestone in tax collection of over VND 300,000 billion (US$12,7 milllion).
The news was released at the conference to implement tax work in 2023 and announce the e-portal connecting with the e-commerce platform and deploying e-invoices organized by the General Department of Taxation yesterday.
According to the report of the General Department of Taxation, the budget revenue in 2022 is estimated at VND1,460,100 billion, equal to 124.3 percent of the ordinance estimate – exceeding VND 285,200 billion or an increase of 8.5 percent compared to the same period last year.
The remaining eight localities reached the milestone in tax collection of over VND 30,000 billion including Ba Ria – Vung Tau, Hung Yen, Binh Duong, Dong Nai, Quang Ninh, Hai Phong, Thanh Hoa, Vinh Phuc while the tax sector Quang Nam, Bac Ninh, Nghe An, and Quang Ngai also achieved excellently the goal of over VND 20,000 billion.
Furthermore, domestic revenue is estimated at VND 1,387,200 billion, equaling 121 percent of the ordinance estimate exceeding VND 240,500 billion, up 6.6 percent over the same period in 2021. There are 17/19 regions, revenues, and tax revenue exceeded the estimate, especially three large revenues from the production and business sector, such as the state-owned enterprise sector, which reached 115.7 percent; the foreign-invested enterprise sector reached 108.1 percent and the non-state industrial and commercial sector reached 116.3 percent.
One of the highlights of the tax industry in the past year was the successful implementation of e-invoices nationwide. By July 1, 2022, across the country, all operating businesses using invoices have switched to using e-invoices and all business households and individual businesses registered and switched to using e-invoices with a total issuance of over 2.1 billion e-invoices.
In 2022, the tax sector has cut 70 administrative procedures, reducing from 304 administrative procedures in 2021 to 234 administrative procedures with a reduced rate of 23 percent. Most administrative procedures have reached levels 3 and 4 and have completed the integration and provision of online public services on the National Public Service Portal.
Hanoi's tax revenue hits nearly US$13 billion
Hanoi, along with Ho Chi Minh City, is the two cities that collect the most taxes, each above VND300 trillion (US$12.7 billion) in 2022, according to the General Department of Taxation (GDT).
According to Hung, there have been eight provinces/cities posting tax revenue of over VND30 trillion ($1.27 billion), including Ba Ria – Vung Tau, Hung Yen, Binh Duong, Dong Nai, Quang Ninh, Haiphong, Thanh Hoa, Vinh Phuc; four with over VND20 trillion ($847 million); and 18 with over VND10 trillion ($423.7 million).
This year, Vietnam's total tax revenue was estimated at VND1,460 trillion ($61.86 billion), exceeding the estimate by 24.3% and up 8.5% year on year. Of which, domestic revenue made up the lion's share of VND1,400 trillion ($59.3 billion), 21% higher than the year's target and up 6.6% against last year.
Apart from focusing on tax collection, Hung said tax agencies have been working on support measures for people and businesses under the economic recovery program, including waiving and extending the due date for payment of taxes and land rental fees worth more than VND174 trillion (US$7.4 billion).
The GDT proposed the Government cut value-added tax at VND20 trillion ($848 million), environmental protection tax on jet fuels at VND1.9 trillion ($80.57 million), and petroleum products at VND26.3 trillion ($1.11 billion).
Hanoi tightens tax management in e-commerce platforms
Director of Hanoi's Department of Taxation Mai Son attributed the city's positive tax collection to effective measures preventing tax losses and arrears collection, especially in e-commerce transactions.
According to Son, the total amount of tax arrears and penalties in the city stood at VND3.05 trillion ($129.4 million), up 15% year on year.
Regarding e-commerce activities, Son said the tax authorities continue to maintain close relations with commercial banks, delivery firms, and intermediary payment service providers to prevent tax losses.
Data from the GDT revealed 42 foreign online service providers, including major tech firms of Meta, Google, TikTok, Microsoft, and eBay, have declared and paid taxes worth VND3.44 trillion ($146 million) in Vietnam in 2022.
In March, the GDT launched the information portal for foreign service providers. The portal, located at the web address etaxvn.gdt.gov.vn, is designed to help foreign entities with no representative office in Vietnam and mainly provide services in the cyber environment, making it difficult for them to file and pay taxes conventionally.
According to GDT, the website helps foreign parties in electronic tax transactions and access information on Vietnam's tax policies and regulations related to e-commerce activities in the country.
Insurance enterprises should list on the stock market: MoF
     
Listing on the stock exchange is one of the solutions to improving the financial and governance capacity of insurance enterprises in the future, according to a proposal of the Ministry of Finance (MoF).
The ministry has submitted the draft strategy for the development of the insurance market through 2030 to the Government for approval.
According to the draft, it is necessary to promote qualified and competent enterprises, which have a need to offer shares to the public, to list on the stock market to strengthen the financial capacity, risk management, corporate governance, publicity, and transparency of insurance enterprises in the future.
Moreover, the draft said that it is also necessary to promote insurance and reinsurance businesses to perform credit ratings.
A report from MoF showed that there are currently seven insurance ticker symbols listed on the stock market, including Post – Telecommunication Insurance Joint Stock Corporation (PTI), Military Insurance Company (MIC), Bao Minh Insurance Corporation (BMI), Petrolimex Insurance Corporation (PGI), PVI Reinsurance JSC (PRE), Vietnam National Reinsurance Corporation (VNR) and BIDV Insurance Corporation (BIC).
PVI Holdings (PVI) and Bao Viet Holdings (BVH) are two companies operating in the finance-investment industry, and they own 100 per cent of the capital in two companies: PVI Insurance and Bao Viet Insurance, respectively, so they are not included in the statistics of the ministry.
In addition, a number of businesses are trading stocks on the UPCoM market, such as Aviation Insurance (AIC), Agricultural Bank Insurance (ABI), and Bao Long Insurance Corporation (BLI).
Among these companies, only VNR and PRE are in the reinsurance sector; the rest are in the non-life insurance industry. Therefore, at the moment, there is not one company in the life insurance group present on the stock exchange.
According to statistics from tinnhanhchungkhoan.vn, in the whole non-life insurance and reinsurance market in Viet Nam, there are 19 companies operating under the model of joint stock companies (excluding BVH and PVI), of which there are 17 non-life insurance companies and two reinsurance companies.
Besides the seven enterprises listed on the stock exchanges, there are still 12 enterprises operating in the form of joint stock companies but not listed, including Aviation Insurance, Agriculture Bank Insurance, Bao Long Insurance, VietinBank Insurance, Vien Dong Insurance (VASS), AAA, OPES Insurance, Phu Hung, Global, Xuan Thanh, Hung Vuong, and Sai Gon – Ha Noi Insurance Corporation (BSH).
Source: VNA/SGT/VNS/VOV/Dtinews/SGGP/VGP/Hanoitimes
VIETNAM BUSINESS NEWS DECEMBER 18