PUBLISHED
March 06, 2022


KARACHI:

What does empowering mean? How does it feel? What is it like? Well, for a young child, it can begin with earning your pocket money on your own and having the independence of spending, or for elder making oneself capable of taking care of your own self and not being dependent on others. But for a girl, who earned her first pocket money at a young age, moved abroad the following year, returned after eight years, and was inducted into a male-dominated industry, she realized the need to work for women and what empowerment means. For her, it is to get yourself independent and pass on the power to other women who are neglected in the male-dominant society.
This is a story of a 28-year-old girl Hufsa Munawar, who has been working through a partner organization to support Google's efforts to connect the developer community in Pakistan to the rest of the world. She wants to empower women with technology and since 2016, she has been working through the tech giant Google's Women Techmakers (WTM) program that provides visibility, community, and resources for women in technology. The program was launched in 2014, and since then, every year, WTM brings together thousands of women in technology through its events and leadership programs.
She is one of the ambassadors of the Google WTM program, and in seven years, she and her team have trained over 1,300 participants in six different cities across Pakistan, whereas the program has over 80,000 members globally and 1000+ ambassadors selected from across the world representing the incredible women in tech.
For Hufsa, being brought up in a dominant female family having three sisters has shaped her into the person she is today. She has been interested in technology and storytelling since childhood, and today she uses both of her interests in training the women in Pakistan.
"I really enjoyed storytelling and capturing moments which made me a huge fan of journaling from a young age. I was always a bookworm and enjoyed being part of other stories via books or capturing my own using my camera. This is something that stays with me today as I use my work to share stories of other women and enjoy the joy of seeing them excel and achieve their full potential by breaking down barriers and limiting beliefs that hold them back," she said.
"I was very fortunate and lucky to get early access to a computer and internet and spent hours exploring the hardware and software side of a PC, breaking down the pieces and putting it back together like a jigsaw puzzle," she added.
Talking about the time when she first experienced empowerment, she said that her dad taught her and the sisters the meaning of being financially independent at a very young age. "I remember making my first income at the age of 15 being a mathematics tutor. That was a life-changing experience, and soon after that, I was making pocket money for myself, enjoying the little freedom and authority of decision making that came with it. This is what empowerment felt like back when I was 15 and something I continue to strive for," she recalled.
Carrying on her instinct, she had the opportunity to move to the Netherlands at the age of 16, and after getting an education, she decided to move back eight years later. This was when she started facing the first bashing by her own people. "Why in the world did you come back? Everyone asked me, and my only answer was to give back to the country that has given me so much. I also really liked the tag of being a 'wapistani'," she said.
Once she was back, she decided to jump into the place where she belongs, the tech industry. She started working as a digital marketer and experienced the difference in the way women were perceived in the industry. "This astounded me. I was one of the very few girls in an office dominated by men, and that was my initial trigger to work on this gap and inspire other women to join the IT workforce. After some initial research, I realized that the disparity existed because of multiple factors, i.e. stereotypes, education, confidence, and lack of role models," she explained.
When she was frustrated with all the factors keeping women on the back foot, a friend and her mentor shared the Women Techmakers program in 2017. "I was one of the first two WTM Ambassadors selected in Pakistan and worked on numerous campaigns to help close this gender-based gap in the industry," she said.
"There is an overall lack of confidence from women getting into the sector, and I think some of this stems from a shortage of female role models and female leaders within the industry. I decided to be one for them by becoming a WTM ambassador."
The diversity gap faced in the industry was not the only concern she had, and there were additional barriers that she came across. Being very vocal about her opinions, her habit of always wearing red lipstick became the subject of many conversations and stereotypes at her workplace.
"Although it sounds silly when we hear about it now, it felt like a major hurdle back in the day. The embedded belief that women are not technical, and the misconceptions that come with it not only forced me to give 200% to my job to compete with my former male colleagues but held me back at multiple points in my career," she said, adding that she kept on trying keeping in mind, 'Per hain to hum bhi bohat dheet.'
Through the WTM program, she wanted to change the mindset and perceptions that have been built regarding females in general. Her work started by empowering women, building their confidence in the sector, and showing them that they belong here. She wanted to create awareness around the benefits of diversity in an organization and challenge the perception that women are great at what they do not because they look and interact in a certain way but because they bring a lot to the table intellectually and emotionally.
Talking about her perception of the program made her keep going all these years. She said that she was in love at first sight! "I have no better words to explain it. After joining the program and becoming a part of the initial global calls, I knew I had chosen the right program to be a part of. The members of this program were so welcoming, and hearing stories of other ambassadors facing similar challenges as me gave me hope that I am not alone in this," she said.
She was excited to bring this into Pakistan, as she saw hundreds of women had already created an incredible impact through this program in their countries. "I think this is a feeling that all our Women Techmaker ambassadors get when they join this program, and it wouldn't be wrong to say that each one of our WTM Ambassadors in Pakistan comes with a fascinating story of their own," she said.
She added that on February 8, Safer Internet Day – Google launched Internet Zabardast and Internet Dost programs with NRSP. The goal of the programs is to equip more than 18,000 rural women with digital literacy skills and 25,000 youth with online safety skills over the next year.
Expanding power
From being an ambassador to leading this program in this region now, Hufsa felt that it is her responsibility to provide this platform to other women like her when they need it the most. She said that the WTM is designed to be a very flexible program, allowing each ambassador to address the needs of women in their area.
"Basic support is provided to each ambassador, allowing them to cater to different needs in a constructive and impactful manner. For Pakistan, each ambassador brings in a very different flavor to the table, and we have regular syncs to shape the national-level strategy and design campaigns that can impact the masses," she explained.
Further explaining the work that she does with the help of her team for Pakistani Women, she said, "We follow a simple mantra at Google Developers, Connect, Learn and Grow. This also acts as the basis of everything we do for Pakistani women," she added.
Through this program, Husfa and her team provide various technical and non-technical training and support the participants. Technical training includes content on Google Developer technologies such as Android, Google Cloud, Firebase, Web technologies, and other areas such as user experience design.
"Our non-technical content focuses on soft skill development, confidence building, resume writing, self-empowerment, and women's online safety are, to name a few. Although we have some incredible women in tech, they do not have the right skills to showcase themselves. Hence, we have brought many global programs to help Pakistani women feel more empowered and confident," she informed.
#IamRemarkable is a Google initiative empowering women and other underrepresented groups to celebrate their achievements in the workplace and beyond, and according to Hufsa, this has been very well received in Pakistan. "We have empowered thousands of women through this program, and I am proud to be a Gold Tier facilitator for this and for being a part of many brilliant stories," she said.
Along with training and education, another important aspect that Hufsa believes the women should focus on is on providing our women in tech a platform to connect and network with others in the industry.
"Going to events or attending virtual talks is a great way to know what is going on in the world of technology within Pakistan, hear what people are talking about, and get a better understanding of the industry. Through these events, we created ample networking opportunities and shared learning that has not only benefited many of our participants to land jobs in the market but has also helped them to find their support circle," she said.
With this, mentorship is the step that she advises women in Pakistan. To find a mentor to learn from and with whom one can freely ask questions and gain guidance on navigating within the industry.
"This can help them with their confidence, knowledge building, and career progression by learning from their experiences and mistakes. We have equipped our WTM ambassadors with solid connections within the industry, linking mentors from different walks of life to them. Upon request, each WTM ambassador can help out women by finding them the right mentor for their journey," she explained.
Do Women pursue training?
In Pakistan, no matter what industry you talk about, many females don't practice the training they have received due to their marriage or are not allowed by their family, but Hufsa thinks the training she is giving has excellent feedback.
"Many of our trainees have gone ahead and joined one of the programs as a lead or organizer to continue the incredible work our ambassadors are doing in this space. Three of our 11 Google Developer Experts come from the Women Techmakers program. Participants from previous events or training host approximately 60% of our new sessions," she said.
"We have helped tens of women get a job in the industry, and feedback surveys reflect that 35% of the women who attended our soft skill training in Islamabad got a job in three months or less. The best statistics of them all, three of our five current Google Women Techmaker ambassadors were also previous participants/trainers in our sessions & later applied to be ambassador," she added.
At Google, in 2020 women hires in APAC (36.4%) were higher than the global average. The focus was strengthened on people with disabilities, which helped recruit, hire, and build for this community to ensure parity in sourcing and hiring Nooglers.
She added that there is a need for more female role models who are willing to speak up and share their achievements with the rest of the community. "We have trained and empowered many women, but when it comes down to speaking about their success, women still shy away from such opportunities. 'I am not good enough or 'I don't think I am a success story yet' are common phrases we hear each day," she said.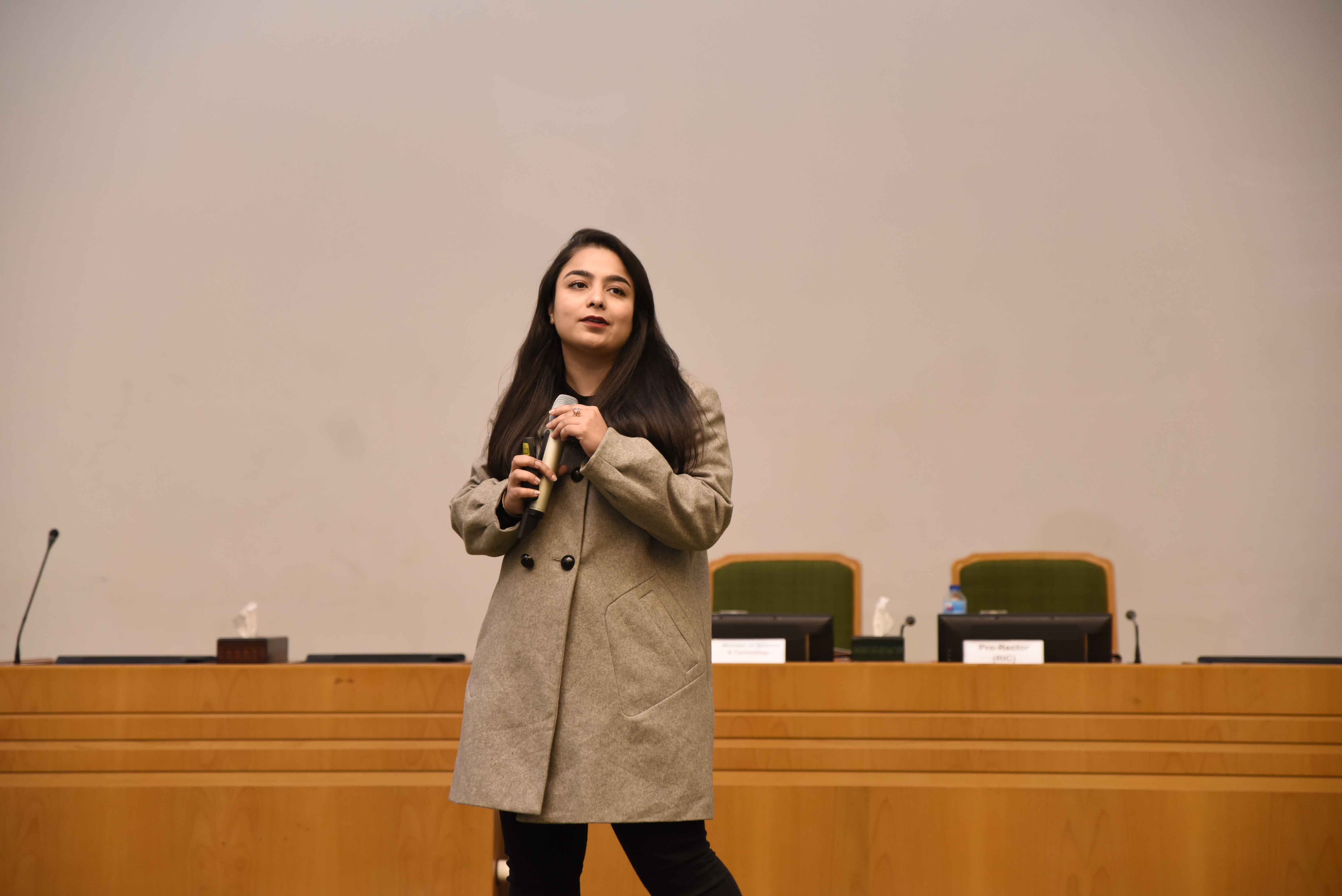 Hufsa and her team are also working on this aspect, but she says it requires more work and attention. However, she added that it's not just about female role models, male role models are also crucial as male allies have a powerfully positive impact, which leads me to the second point.
"I strongly believe that women need to open this discussion space for men not only for inclusivity but also to inform the other side on the issues and problems women face in the industry today," she said adding that at WTM they ensure to conduct dedicated events inviting both males and females to amplify the noise of what they are doing, make discussions more inclusive and to expand the support circle and people rooting in the audience.
She said that at an International Women's Day event in 2017, a participant was an excellent coder but was exceptionally shy. As a part of the event, she attended the confidence-building session and later reached out to Hufsa, saying how good she felt after the session. "She is now one of our most active Google Developer Experts who always leads sessions & has empowered many others like her to join events and speak up," she said.
Future Aim
For Hufsa, her biggest supporters are her father, a huge advocate for women's empowerment, and her friend and colleague, Aiman Saeed. "From teaching driving to mom, to helping out in household chores so she could focus on other things, each and everything about him was inspirational. He has always provided me with the help and resources I needed to make something happen," she said.
"Find out the solution whenever I get stuck, being the loudest cheer in the crowd, first one to inquire about training, listening to the inspirational stories, and making me the subject of some of his "I am proud of my daughter" emails to his siblings are some things I am blessed of by my father," she added.
Since a very young age, she has enjoyed setting goals for herself and working hard to achieve them, even if this came with failure at times. "When I look back, I feel thankful and appreciative that I faced those issues in the industry upon returning because that allowed me to set a goal; helping women in tech, and I am not stopping anytime soon," she said.
She wants to give women the platform she didn't have five years back when she had just returned to the country. "Inspirational success stories of the women we have trained are my true motivation to keep going, each and every day," she concluded.