Macomb County is a hub of dynamic high-growth jobs. With businesses spanning the manufacturing, automotive, healthcare, and technical industries, the county has no shortage of open positions for young professionals. 
According to Macomb County Planning and Economic Development, 61% of the county's workforce is white-collar jobs. Additionally, 61% of residents have some level of college education to advanced degrees — its central location makes for a short commute to Macomb Community College and several universities including Oakland University, Wayne State University, Lawrence Technological University, and the University of Detroit-Mercy.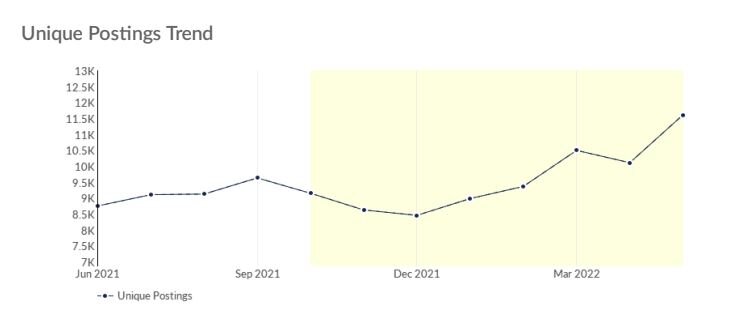 Photo supplied / Macomb County
From October 2021 through May 2022, there were over 76,000 unique job postings in the county. While only 38% of the postings included salary, the median advertised salary was $18.03 per hour — a number that's increased more than 15% since June of 2019. 
Throughout the aforementioned time span, the industry with the most available jobs was manufacturing. Healthcare and social assistance, as well as professional, scientific, and technical services, were also top industries. 
In close proximity to Detroit — the Motor City — Macomb County is rich in automotive businesses, housing facilities for the "Big Three": General Motors' Global Technical Center in Warren, Ford Motor Company's Axle Plant in Sterling Heights, and Engine Plant in Romeo, and Stellantis' Stamping and Assembly Plants also in Sterling Heights. 
While all three employ thousands, General Motors was the top business with the most job postings in the county from October 2021 to May 2022 with over 3,000 unique open positions.
The fastest growing automotive jobs in the county include industrial engineers (median hourly pay of $46.27); mechanical engineers (median hourly pay of $46.46), and first-line supervisors of production and operating workers (median hourly pay of $32.27) — all of which are projected to grow in demand through 2026. 
In addition to the "Big Three," engineers, maintenance and quality technicians, mold assemblers, and more technical roles are needed at other local manufacturing companies such as Romeo Rim, Weldaloy Speciality Forgings, and TK Mold & Engineering. 
Not only is the county home to automotive and manufacturing experts, but it also houses a variety of defense and homeland security organizations — such as the U.S. Army Tank-Automotive & Armaments Command (TACOM) headquarters in Warren and BAE Systems in Sterling Heights, to name a few.  
Photo supplied / Macomb County.
The defense workforce opens doors for many software development roles, which had a median hourly earning of $43.89 in 2019. Software developers in general — not just those in the defense industry — are among the fastest growing information technology (IT) and cybersecurity jobs in the county with a projected growth rate of 2% from 2021 to 2026.  
One global defense company, General Dynamics Land Systems, was the second top business with nearly 2,000 unique job postings in the county from October 2021 to May 2022. The Land Systems global headquarters, located in Sterling Heights, is looking for professionals to fill roles in engineering, software management, material cost analysis, and procurement. 
In addition to full-time positions for working professionals, the company also offers an internship program to current students.
"Our internship program generally ranges from twenty-five to fifty interns, mainly based at our Sterling Heights office," General Dynamics' senior talent acquisition partner Jeremiah DeHelian says. "We plan many exciting activities for our interns each summer, such as visiting our manufacturing sites, meeting with executives, working on innovative projects, and learning about our vehicles." 
Healthcare is another ever-growing industry and professionals are in demand in Macomb County, which has three general hospitals: Henry Ford Macomb Hospital in Clinton Township, McLaren Macomb Hospital in Mount Clemens, and Ascension Macomb-Oakland Hospital in Warren. 
The top posted occupation in the county from October 2021 to May 2022 was registered nurses, with an average annual earning of about $70,000 as of June 2022. 
Internship/externship opportunities are available at McLaren and Ascension Hospitals. Each offers paid roles for students who are enrolled in nursing or related healthcare programs looking to get initial experience in the field. 
While medical and nursing assistants, personal care aides, physicians, and physical therapists are needed, these facilities also offer a variety of nonclinical positions for those who may not have related degrees. Henry Ford has openings in administrative support and other business roles.  
Besides the array of job opportunities in the manufacturing, automotive, and healthcare sectors, the county also boasts organizations that support its up-and-coming workforce such as the Metro Detroit Young Professionals (YoPros) group and L.E.A.D.S.
YoPros offers networking and mentorship opportunities, leadership skill-building advice, and other career development resources to young professionals in their early twenties to their forties. 
The Macomb County Chamber of Commerce also offers L.E.A.D.S. (Learn, Expand, Associate, Develop, Succeed) in multiple cities — diverse groups who meet weekly to monthly to exchange business leads. 
For more information on local job postings and applications, visit the "Careers" tabs on company websites or go to simplyhired.com, indeed.com, and mitalent.org. 
Macomb sees boost in emerging high-growth jobs for young professionals