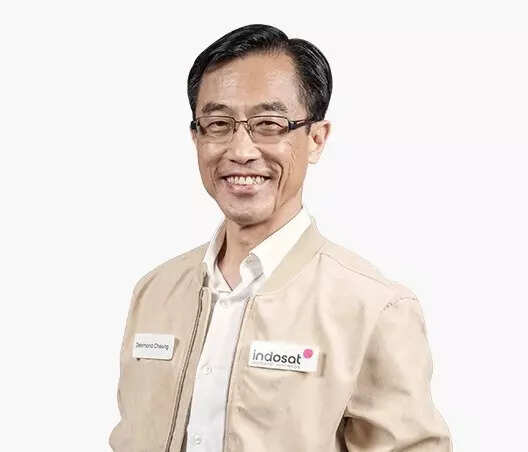 Desmond Cheung is the Chief Technology Officer of Indosat Ooredoo Hutchison. Desmond started his mobile communication career from the analog cellular systems in the early 1990s. Prior to joining Indosat Ooredoo in January 2022, Desmond has worked with many organisations in leadership positions. From 2010 to 2015, he was the CTO at Hutchison mobile network in Vietnam. In 2015, he took over as the CTO for Hutchison 3 Indonesia.
In an exclusive interaction with us, Desmond shares his thoughts on some of the tech trends dominating the telecom sector in Indonesia and major trends that will be most prominent in Indonesia's telecom sector for 2023.
What are some of the tech trends dominating the telecom sector in Indonesia?

First of all, there is a growing telecom market. Indonesia is one of the largest markets in Asia, with a population of 278 million. The Ministry of Finance predicts that Indonesia's economy could gain as much $2.8 trillion by 2040 through technology adoption including the telecom industry. As one of the fastest developing telecommunications markets in the world, the Indonesian telecom industry is driven by growth in both mobile and fixed broadband subscriptions. We expect the competition in mobile network operators, especially customer acquisition, to remain intense, as Indonesia's prepaid subscribers dominate the market.
Secondly, mobile broadband users are still dominating, but there are opportunities in the fixed broadband market. The data traffic is still dominated by mobile broadband as the penetration rate for mobile broadband significantly exceeds the fixed broadband. Because the mobile broadband pricing in Indonesia was among the lowest in the world even though Indonesia is one of the world's largest telecommunications markets. In contrast, fixed broadband pricing is relatively high compared to Indonesian households' average monthly expenditure per capita. We consider an affordable data tariff contributes to high data consumption, as telecommunication has become one of the people's basic needs nowadays. On the other hand, we are also strengthening our fixed broadband presence in Indonesia.
Thirdly, the telco industry supports digitalisation. Indonesia is gaining its momentum as the fastest country to experience growth in its digital economy and industry 4.0 in Southeast Asia. The telecommunications industry is growing and transforming rapidly to support digitalisation and help the nation's economy to recover faster. This is where telco operators play a vital role to ensure people stay connected and have a seamless digital experience.
Post Covid, we see the trend of shifting from offline to online activities will continue. We expect the surge in broadband data traffic will continue, given the rising 4G subscribers, affordable data tariffs, mobile handsets, and players' investments in capacity networks.
The next trend is with 4G expanding everywhere, it is time to prepare for 5G. The 4G network is the most widely used among consumers today. We are happy to share that now IOH already covers almost 90% of the population with 4G coverage. Moreover, Indonesia's telco is focusing their efforts to reframe 3G to 4G to better utilise the spectrum and will then focus on 5G development.
The fifth trend is building the 5G use-case. We are in the midst of finding the best 5G use cases for the country nowadays. IOH has partnered with different sectors, i.e., manufacturing and education sector; also global partners that will help Indonesia to utilise and bring the benefit of 5G technology in collaboration with global partners like Google. In Indonesia, it is just the beginning and we believe it is about the 5G use-case realisation game from next year onwards.
What are some of the challenges facing the telecom sector in the country?

We need a sustainable model to bring a seamless experience to the country, as Indonesia has one of the most unique and challenging markets due to its geographical landscapes. The telco industry requires high CAPEX investment to improve network experience within this geographical condition.
Moreover, the most significant challenge for operators is how to utilise 5G service to its optimum to empower business and customers, but at the same time also enable it to be profitable for the telecoms company. Therefore, IOH tried to foster 5G best practices through various use cases in several cities to research for maximising the potential use in Indonesia.
What are some of Indosat Ooredoo Hutchison's major challenges this year?

Our biggest challenge is to keep improving ourselves so we can accomplish our mission to deliver a world-class digital experience, connecting, and empowering every Indonesian. Moving forward, we aim to keep delivering simple, transparent, and relevant products and services.
Here are some other our major concerns:
Customer Experience Excellence: We understand that customers do not need to know which spectrum or technology they use on their digital activities. As long as they are experiencing smooth video streaming, video conference, or online gaming without any lag, means that we won their heart. Unfortunately, Indonesia's tariff is one of the lowest in the region. So, we need a healthier market for operators to be able to invest more to overcome Indonesia's geographic condition and challenges for coverage, transmission connectivity, new technologies, and reasonable spectrum fee.
Ecosystem for Digitalisation & 5G: Everyone is saying that 5G is the future of the telecom industry. More than just speed, 5G will provide a platform for unlocking many innovations and opportunities to improve societies and the economy. Together with the regulator and other telco industry players, we need to accelerate the ecosystem readiness that consists of Device, Network, and Application, while preparing Indonesia's human resources to adapt with the future development. IOH will continue to support this 5G revolution in Indonesia by providing connectivity and digitalisation in the cities with high demand and readiness.
Energy-efficient solutions: We need to provide electricity to both our based station sites as well as our data centers. As traffic payload increases, energy usage also increases, impacting our cost as well as our carbon footprint. Therefore, we always strive to find innovative energy efficient solutions that would allow greater performance while consuming less power for more sustainable business. It will also save the people and the planet in the long-term.
What do you think are some of the tech trends that will be most prominent in Indonesia's telecom sector for 2023?

When it comes to 2023, we expect a surge in broadband data traffic will continue next year, given the rising 3G/4G subscribers, affordable data tariff and mobile handsets, players' investments in capacity networks, and the trend of shifting from offline to online activities.
A healthier telco industry is another trend we foresee. A healthier business competition environment for operators to focus more on customer experience, product and service instead of price. This is positive for telco operators as currently the surge in data traffic did not optimally compensate for their heavy capex. The mobile broadband pricing in Indonesia was twice lower than that in Malaysia, and among the lowest in the world. In contrast, fixed broadband pricing is relatively high at USD 34.81/5 GB, compared to Indonesian households' average monthly expenditure per capita of USD 82.82.
Lastly, 5G will be a major trend. The massive deployment of 5G should go hand in hand with the ecosystem maturity.
We hope the introduction of 5G technology will offer massive opportunities to support digital transformation across industries and markets. I believe 5G will have a big impact on Indonesians' day-to-day digital life and business activities by providing an enhanced customer experience. 5G will be one of the enablers of digital transformation, along with IoT, Big Data, Cloud, AI and Automation, to enhance the mobile broadband experience, potential incremental rise in productivity, the emergence of new business innovations, and further advancements in the fourth industrial revolution.
Your one piece of advice to CTOs when it comes to building digital resilience in organisations.

My one piece of advice is to embrace it for the opportunity to set the right priority to tackle the most impactful disruption risks. Based on the 80-20 rule, coupled together with zero trust security and other anti-data theft strategies, CTOs can build digital resilience in an organisation quickly.
Desmond Cheung, CIOSEA News, ETCIO SEA