Six months after graduation, 95 percent of the members of the Wabash College Class of 2022 have settled into a first destination—employment, graduate school, or service.
It marks the sixth consecutive year in which Wabash graduates have claimed their first destinations following graduation at rates among the highest in the nation. Over those six years, Wabash graduates have secured first destinations within six months at a rate of 98.4 percent, well above the 84.1 percent Career Outcomes Rate as reported by the National Association of Colleges and Employers, which is the best current measure for national comparison. 
"Employers, graduate schools, and service organizations are eager to hire and enroll Wabash graduates because of the depth and breadth of their liberal arts education, combined with the experiences they gain through our nationally recognized career services office," said Wabash President Scott Feller. "We are proud of our recent graduates and look forward to engaging with them throughout their careers."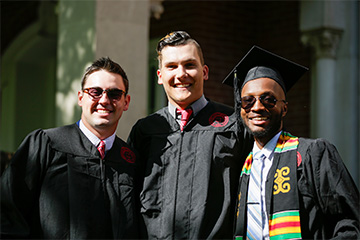 The nation's second-ranked alumni network and third-ranked internship program according to The Princeton Review combine with Wabash's outstanding liberal arts education to drive its graduates to high levels of success. Further, Wabash was ranked No. 9 on the DegreeChoices.com list of Best Liberal Arts Colleges and a Top Performer on Social Mobility by U.S. News & World Report.
"I am very proud of the resiliency demonstrated by the Class of 2022," said Steven Jones, Dean for Professional Development. "Given the impact of COVID-19 on their ability to secure in-person internships for two summers and the current job market, I am delighted with the 'Wabash Always Fights' spirit they exhibited."
Due to the work of the Schroeder Center for Career Development, students are regularly engaged in programming that keeps them focused on successful pathways after graduation. Weekly "Coffee and Careers" sessions and employment recruiting events are two of the many opportunities for students to connect with potential employers and graduate schools.
Additionally, the Professional Development team works to provide programming that meets the current senior class where they are. During the fall break, seniors had the opportunity to engage in a Professional Immersion Experience (PIE) on campus. Professional Development staff led students through a series of workshops on job search strategies, articulating strengths and experiences, networking, interviewing, and accessing alumni as a resource. The program closed with mock interviews conducted by alumni and friends of the College and a networking lunch to share feedback.
"Our signature programming ensures seniors are approaching graduation with critical job skills," said Cassie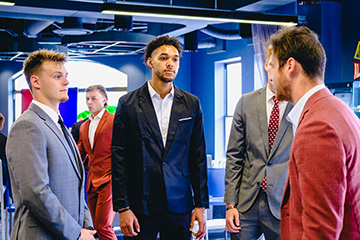 Hagan, Director of Professional Development and the Center for Innovation, Business, and Entrepreneurship. "These graduating classes will meet the workforce with more experience navigating virtual work and self-managing. We want communication, critical thinking, and leadership, the trademark qualities of a Wabash man, to continue to ring true for those who didn't have as many in-person opportunities. Our goal is to shorten the learning curve and send our graduates off to continuing education and full-time employment ready for whatever the future of work may look like for them."
Members of the Class of 2022 showed interest in a number of fields, including commercial real estate, education, entrepreneurship, and logistics. They were hired by employers like Amazon Web Services, Deloitte, Eli Lilly, First Merchants Bank, Kennected, PwC, Rialto Capital Management, Stryker, and UKG.
Class of '22 Posts Strong First Destination Placement Rate